91 Lamberton Street, New Haven
Future homeowner: Nazifatou Afoda-Sebdou
91 Lamberton Street is underway! This is a photo of the home from January 31.
We have had several groups join us in constructing this home so far! This photo is from March 11.
The siding has almost been completed and the home is now insulated! This photo was taken on May 28.
We have made progress on the porch of this home, and the inside is now painted all bamboo flooring has been installed! This photo was taken on July 29.
2 Button Street, New Haven
Future homeowners: Armando and Rosalie Hernandez
Sponsor: Raise the Roof
Our construction staff returned to the build site on May 20 and volunteers began building on June 18. This is a photo from June 18 showing the beautiful siding on this house.
24 Glen Haven Road, New Haven
Homeowners: Edwin Elicier-Rivera and Marnelia Martinez-Pillot
Sponsor: Knights of Columbus
This home is a rehab project. We will be converting a 2 bedroom, 1 bathroom home to a 3 bedroom, 1.5 bathroom home. We are currently removing sheet rock and clearing the inside of the home. Volunteers are working at the site on rainy days for now and we will start work full time on the property in the spring.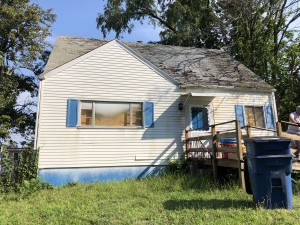 We are continuing demo work on this project- the inside is now completely gutted and work has begun on the outside of the home. This photo was taken on June 24.
We have added a dormer to the back of this home to expand it to three bedrooms. We have also removed the outside basement stairs and continue to work on the interior of the home. This photo was taken on July 31.