Becoming a Habitat Homeowner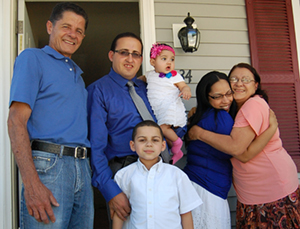 Habitat's homeownership program is based upon the concept of partnership. Habitat's commitment to that partnership is to build simple, decent homes and sell them to qualified low income working families via a 25-year, zero percent interest mortgage. Habitat offers families accepted into our program the necessary homebuyer education to become long-term successful homeowners. Partner families are required to:
Complete 400 hours of "sweat equity" helping to build their home and that of another Habitat family
Follow program guidelines
Repay the mortgage on time.
The application process consists of reviewing the homebuying presentation below, completion of the application form, credit check, an interview, and fourteen (14) hours of volunteer work on a Habitat work site.
Requests for pre-applications for our homebuying program closed on September 23, 2022. Completed pre-applications are due to the Habitat for Humanity office at 37 Union Street, New Haven by 4 p.m. on Friday, September 30, 2022.
Click here for more details on applicant requirements.
---
There are several things that you can do to prepare yourself for homeownership:
Request a copy of your credit report. If there are any issues that you need to address, it is a good idea to begin soon. If you need assistance with credit issues, contact Consumer Credit Counseling Services at 1-800-208-2227.
Shop around. There are a number of housing programs in New Haven that may also be able to assist you. Each housing program is different, and we encourage you to compare what each has to offer, so that you can find the route to homeownership that best meets your needs.
Open a savings account. When purchasing a home, a down payment and closing costs are part of the process. Moving expenses, emergency home repairs, etc. are all steps that require a significant amount of money. Planning ahead with a savings account is one way to prepare for all the costs that lie ahead.
Habitat does not keep a waiting list. Each time we are ready to begin building a house, we announce that pre-applications will be available for prospective homebuyers. We announce this information in the following ways:
On the front page of our website
Via Constant Contact (you must be on our email list to receive the message)
In area newspapers as their printing space for press releases allows
You are always welcome to call the Habitat office at (203) 785-0794 to inquire if there is a meeting scheduled.